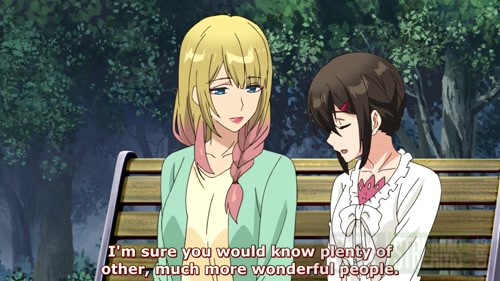 Skirt no Naka wa Kedamono Deshita
Kominami Shizuka is a mild-mannered college student who is having
trouble adjusting to city life. One day, she meets Kirishima Ryou,
another student who projects the image of a cool older sister. The
two hit it off, but Shizuka is shocked when Ryou attempts to seduce
her. Shizuka initially assumes that Ryou is a lesbian, but Ryou is
in fact a man who dresses like a lady.
Interesting story. I would say the story take half the screentime.
Sweet story… your girl might like it. The action is soft, a whole
lot of fingering, licking, sucking tits, fondling, rubbing in all
episodes from ep. 1 to 9.
By ep. 10 he finally put his fingers in her mouth!And finally,
ep. 12… missionary!
File Size :1.20 GB
Resolution :1280 x 720 MPEG-4
Duration :00:57:35